Your Official Public Media Fan License Plate
Show your support of WFYI, NPR and PBS by purchasing a WFYI Specialty License Plate through the Indiana BMV!
With a "public media fan" license plate, you'll show that you are informed, inspired and engaged by WFYI programs – and you help support the trusted news, meaningful stories and lifelong learning that you rely on each day.
From drive time to driveway moments,
You can add horsepower to the programs you love!
To select a WFYI plate, head to IN.gov/BMV, your nearest BMV branch, or a BMV Connect kiosk. When registering, you'll pay standard registration fees and taxes, a $15 BMV fee and a $25 Special Group Recognition fee, which is the tax-deductible gift that powers WFYI public television and radio.
You can get a WFYI plate for your car, truck weighing 11,000 lbs. or less, recreational vehicle or motorcycle (including autocycles). Your "public media fan" plate can be personalized for an additional fee. And fear not, you can switch out your current plate and get a WFYI plate even if your registration isn't up for renewal. Purchase yours today to show the world that you are a WFYI and public media fan!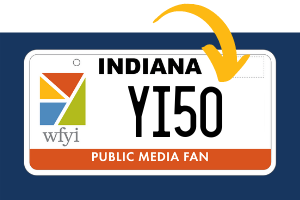 Pick Your Number
A low-digit number on your WFYI license plate lets you make a singular statement while showing your public media pride. But one question remains – what's the number for you? The year WFYI was founded (70), when you first became a member, or the year This American Life premiered (95)? You get the idea.
Here's what you need to know:
Numbers run from 1 to 100 and are paired with the prefix YI for most vehicles and WI for boats and motorcycles.
The prefix-number combinations are given on a first-come-first-served basis, so your first choice might be taken. We recommend having a few favorite numbers in mind.
Once you've called (317) 715-2009 and confirmed your prefix and number with our team, WFYI will complete a Low Digit Assignment for a Distinctive License Plate form (State Form 54845) that you can use at your local BMV.
Your prefix-number combination is guaranteed until 2025.
To get your number on your WFYI plate, contact our membership team at (317) 715-2009 or via email at membership@wfyi.org.
More Ways to Support WFYI Public Media