Cyberchase Text to Teacher
Free STEM Resources by Text for Grades 1-3

WFYI is pleased to announce a free, texting program for teachers in grades 1-3!
Teachers will receive a text message once a week with a link to free, quality, educational STEM classroom resources from the award-winning multimedia children's series Cyberchase. (Messaging and data rates apply.)
Text WFYI to 30644 to sign up now.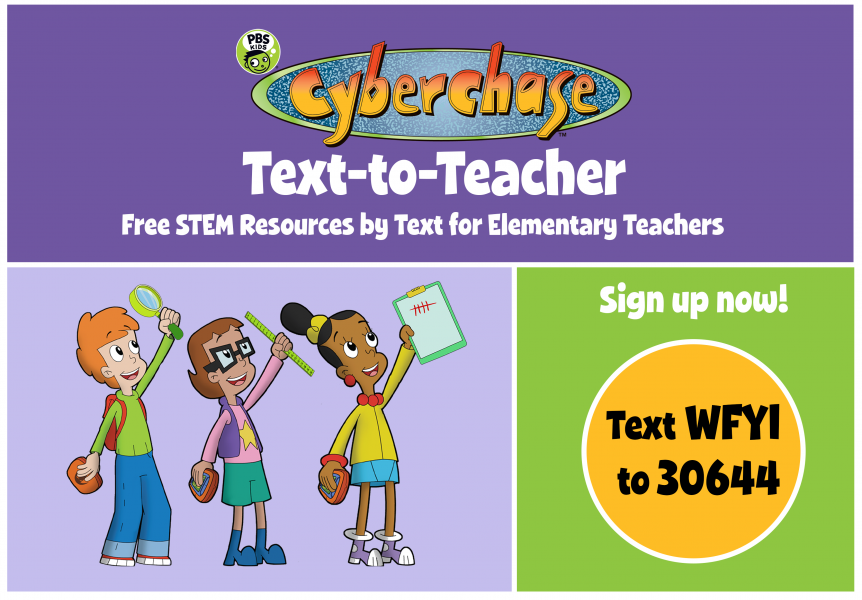 More about Text to Teacher:
Text to Teacher is an innovative free service offered to educators by WFYI, WNET, and PBS KIDS. Teachers register for the service by texting WFYI to 30644. Registrants then receive one digital classroom resource and one link to support materials each week, beginning one week from the initial sign-up date, for four consecutive weeks.
The Text to Teacher Cyberchase resources are appropriate for grades 1-3, and blend math and science learning, teaching math concepts (numbers & operations, data collection, representation & interpretation, geometry & spatial sense, measurement, and algebraic thinking) through the lens of four environmental science themes (health, energy, water, and ecosystems).
More about Cyberchase:
Cyberchase is the Emmy Award®-winning animated series on PBS KIDS that inspires children to
approach math with enthusiasm, confidence and a "can-do" attitude. It shows kids that math is
everywhere, and everyone can be good at it! Serving a critical need in informal math education, Cyberchase puts the "capital M" in STEM (Science, Technology, Engineering, Math).
Packed with mystery, humor, and action, Cyberchase targets kids 6 to 8 and features diverse kid
heroes who approach problems with persistence and confidence.
Research shows that Cyberchase viewers understand and remember the math content of the
episodes they watch—plus they have a more positive attitude, more self-confidence, and more motivation towards mathematics and problem solving than non-viewers.
Cyberchase is produced by THIRTEEN for WNET, one of America's most respected public media providers. The series now offers more than 100 episodes and has been on the air for 15 years.
Funding for Cyberchase is provided by The JPB Foundation, the Heising-Simons Foundation and Ernst & Young LLP. Additional funding is provided by Lynne and Marc Benioff, the Tiger Baron Foundation, Shailaja and Umesh Nagarkatte and Ellen Marcus. Cyberchase is produced by THIRTEEN Productions LLC for WNET. THIRTEEN Productions LLC. All rights reserved. PBS KIDS and PBS KIDS logo are registered trademarks of PBS. Used with Permission. Message and data rates apply.