Indianapolis officials gave an update on COVID-19 this week. Marion County remains at a yellow advisory level with a 7-day average positivity rate of 15 percent among all tests. The county is experiencing a bump in cases after the holidays.
Officials addressed this week's announcement that the NCAA plans to bring the entire men's basketball tournament to Indiana. Indianapolis Mayor Joe Hogsett said it's still too soon to know whether or not fans will be allowed to attend the games in Indianapolis.
"Our behavior now, our behavior today determines our public health environment tomorrow," Hogsett said.
The city says the NCAA is working closely with local and state health departments to host the safest event possible.
The Marion County Public Health Department also offered a new color-coded, risk calculation tool for schools to determine in-person teaching. Director Dr. Virigina Caine said the goal is to not have to close all schools.
"But it depends on the work, the individual work, infection control and other issues occuring in your school," Caine said.
Schools are now required to report student and staff cases to the department. It will monitor schools with case positivity rates placing them at the green and yellow levels. The department will begin working with schools to prevent further increase if they reach the orange level, and will work with those at the red level to decrease incidence.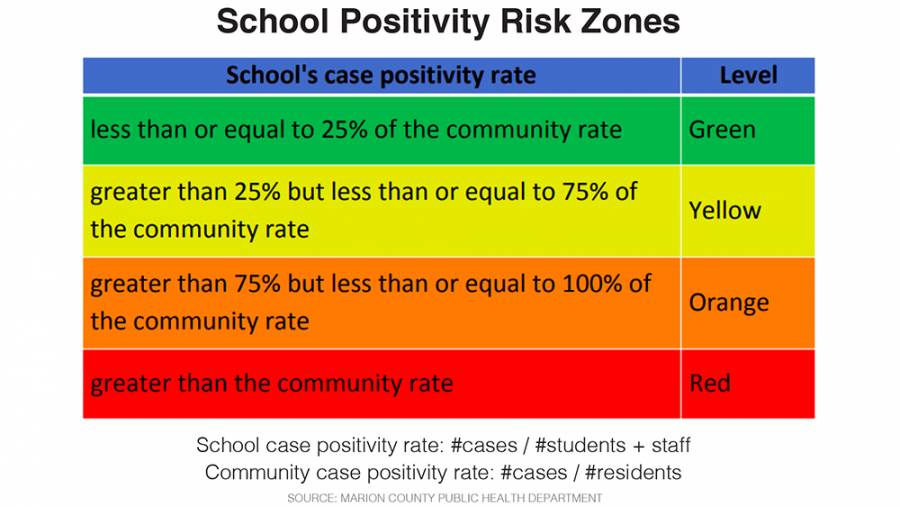 The MCPHD also announced it will be distributing the COVID-19 vaccine to eligible individuals. This includes medical professionals, law enforcement and anyone over 80.
Hogsett said they are working to give everyone an equal opportunity to get the vaccine.
"Our city will be relying on trusted voices to get the word out," Hogsett said.
Residents can start scheduling appointments this Friday.