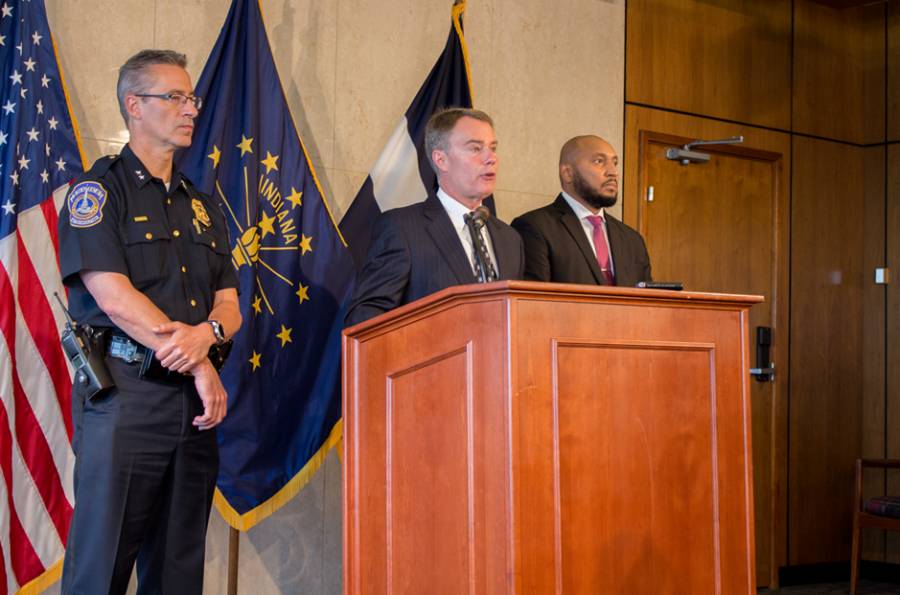 Indianapolis Mayor Joe Hogsett (center), announces reforms for IMPD with Chief Bryan Roach (left) and Deputy Mayor of Neighborhood Engagement David Hampton (right). (Photo by Drew Daudelin)

Two weeks ago Indianapolis police officers shot and killed an unarmed man, after a traffic stop and a brief car chase. Investigations into the incident are still ongoing, but Mayor Joe Hogsett Friday announced a series of reforms related to police use of force.
The reform comes in five parts:
IMPD trainers will learn how to conduct implicit bias training
A newly created Office of Diversity and Inclusion will evaluate the impact policies have on the community
A newly created Use of Force Review Board will study incidents like the recent shooting of Aaron Bailey
Legal experts will review IMPD's training curriculum, with a focus on implicit bias
The mayor's office will lead a community review of the Citizens Police Complaint Board
Hogsett says he wants the Use of Force Review Board, and the changes overall, to prioritize transparency and affirm the public's trust.
"This review will better protect both our law enforcement officers and our community, shining a light on what happened in any particular incident, and why," Hogsett says.
IMPD Chief Bryan Roach connected the recent shooting to incidents in other cities, which have sparked national conversations about accountability and racial bias in police departments.
"I heard a lot of anger, over the last couple of weeks," Roach says. "I heard a lot of fear. And it's our responsibility to try and diminish both the anger and the fear."
Roach says while IMPD already reviews use of force incidents, they will now be able to study the issue on a broad scale, and compare Indianapolis with national trends.