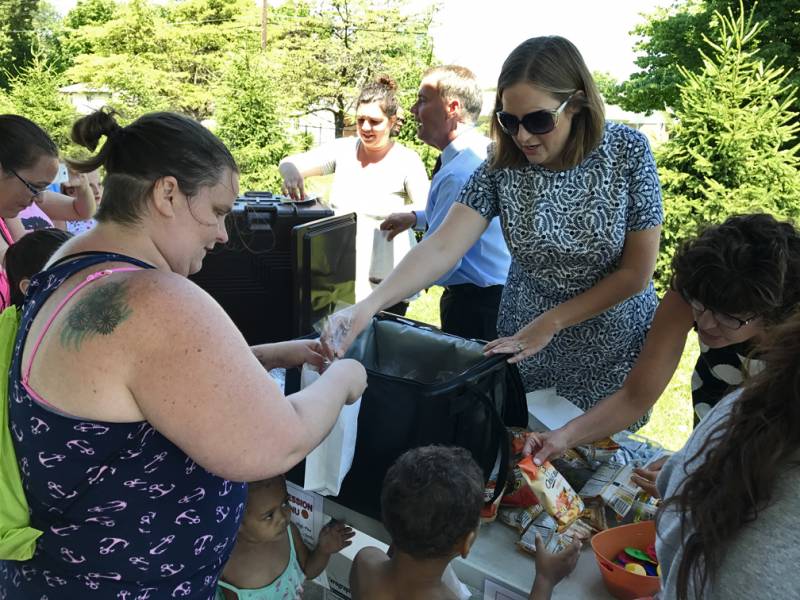 Indy Parks Director Linda Broadfoot, with Mayor Joe Hogsett behind her, passes out meals at Tuesday's kick-off event for the annual summer program. (Photo by Drew Daudelin)

There are over 170,000 people dealing with hunger issues in Marion County, according to a 2015 report by Feeding America. The federal government funds an annual summer program to help alleviate the problem, and this year Indianapolis will participate once again.
Kids ages 18 and under can get free meals through the Summer Servings program. Indy Parks, which runs the operation locally, says it expects to serve 150,000 meals in the next few months.
Indy Parks Director Linda Broadfoot says every meal meets strict nutrition requirements, complete with fruits, vegetables, meat and milk.
She says the meals will be available at 100 sites around the city.
"We coordinate sites throughout the city with other community partners. They apply to us so we can help them organize their food, and their servings," Broadfoot says. "And then we have nearly 40 park sites that we determine based on needs in the neighborhood."
Indianapolis is home to many food deserts, where nutritious food is out of reach for thousands of low-income residents.
Broadfoot says she's confident the program will continue to grow, as it has in recent years, in order to meet that need. But for now it relies entirely on funding from the Federal Department of Education, and some philanthropic support.