INDIANAPOLIS - Summer food programs kicked off across the state this month. Many low-income children rely on these USDA food programs when school's not in session, but an estimated 80 percent of Indiana's children in need of the federal program may not be able to access it.
Stout Park on the west side of Indianapolis, boasts a splash pad, a playground, a picnic area and a large green space and earlier this month, it hosted a USDA summer food service program.
Chris Lovalvo brought her two children.
"Being as they're four and five, peanut butter and jelly is their most important thing and it's very healthy … sometimes things that I can't afford at home. And it's always nutritious, and they get a choice, that's what I like the best," Lovalvo said.
The federal summer food program requires distribution in areas where at least half of the children qualify for free and reduced meals.
But approximately 80 percent of Indiana's low-income children won't be able to connect with the federal program this summer.
The Indiana Department of Education, or DOE, heads efforts to recruit sponsors like schools, faith based organizations and parks, to host feeding sites.
State Superintendent of Public Instruction Glenda Ritz says one challenge is letting people know where these distribution centers are.
"We have to make sure we get the word out to as many families as possible to be sure they continue to have that kind of food during the summer months, as I've said before 'you feed the body, you feed the mind,'" Ritz said.
The DOE is running more ads this year, and it has a new text message campaign. But Ritz says, even if they reach more people, they still have a another problem: transportation.
And it might be the most complicated. With commuting, and other lifestyle changes, a growing number of low-income children now live outside the neighborhoods that qualify for federal assistance.
Lucy Melcher is an advocate with No Kid Hungry and says the food service program needs a makeover.
"It's operating in the same way as it was 40 years ago, and, as we know today, communities and poverty look very different than they did in 1975," Melcher said.
On top of this, transportation can also be an issue within qualified neighborhoods.
"We need to make sure we have a summer meals program that reaches children, no matter where they live, during the summer months," Melcher said.
Melcher wants to see Congress rework the program through the Child Nutrition Act. Her group is urging lawmakers to consider easing constraints and giving sponsors more ways to administer the program.
"The challenge is that overall this program doesn't allow for the kind of flexibility and innovation that organizations on the ground need," Melcher said.
Innovative ideas are happening at another site in Indianapolis's Wayne Township.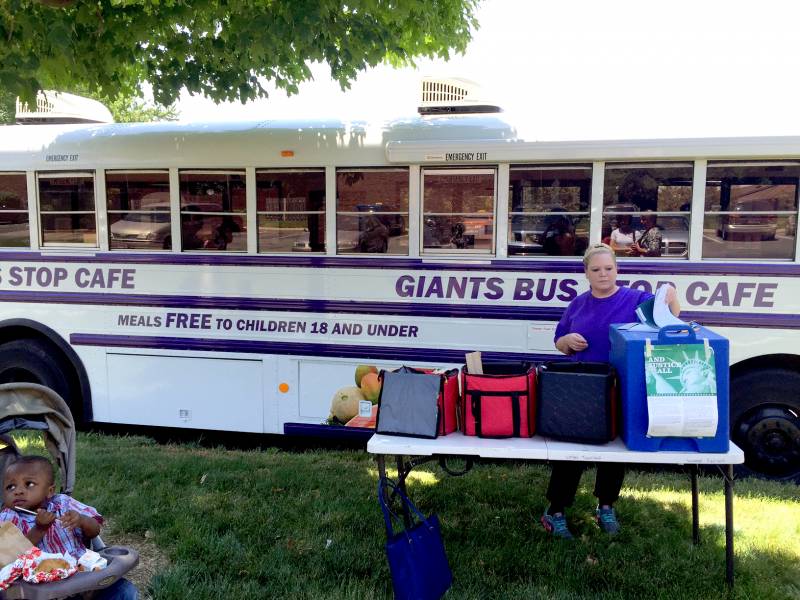 A few years ago, child nutrition director Sara Gasiorowski, decided to take $30,000 from her budget and rehab a school bus to bring the summer meals to new sites. She was able to add another bus last year.
"Each bus does a couple hundred meals a day, our second bus right now has a new route, and so we've dropped in count but we're really reaching an area that needs us, so it's just going to take time to build that up," Gasiorowski said.
Michel'le Strong enjoyed an airconditioned lunch on long benches that line the inside of the food bus parked in their west side apartment complex.
"It makes a lot of sense, to be honest some people don't have food at home so this is a chance for them to come down here and eat," Strong said.
Gasiorowski says she still wishes she could do more.
"I think sometimes, the fact that we don't have an option to take it….. It would be wonderful if the program allowed kids to sign up, like we know that they need it and we could take it like Meals On Wheels," Gasiorowski commented.
The federal government requires the reauthorization the Child Nutrition Act every five years. Both Congress and the Senate have passed versions that include the Summer Food Service Program and are working on a compromise.