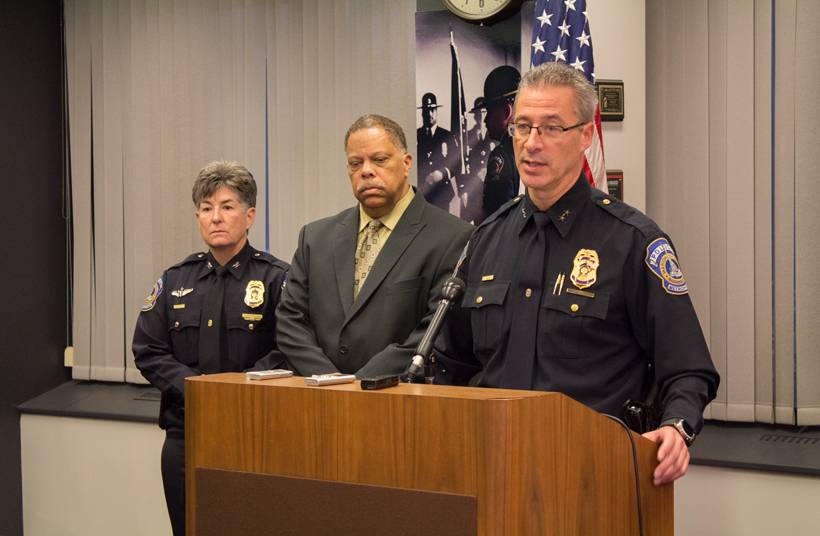 IMPD Chief Bryan Roach says internal discussions since the Aaron Bailey shooting have centered around implicit bias. And he says by 2018 all officers will be trained in fair and impartial policing. (Photo by Drew Daudelin)

Indianapolis Police Chief Bryan Roach answered questions Wednesday about a special prosecutor's decision not to file charges against officers who shot and killed Aaron Bailey in June. The shooting happened after Bailey crashed his car into a tree during a high-speed car chase.
The criminal investigation, by a special prosecutor in St. Joseph County, is one of three investigations into the shooting.
In the prosecutor's conclusion he says the officers claimed "subjective fear or the objective reasonableness of fear," and that there was insufficient evidence to refute that claim.
Aaron Bailey was an unarmed 45-year-old black man, and some of the public's response to the shooting has echoed national conversations around whether minorities are treated unfairly by police.
Roach says internal discussions since the shooting have centered on implicit bias. And he says implicit bias training has since been implemented.
"And so you have officers now who feel like, 'Well wait a minute, everybody has these biases. The important part is that I'm not acting upon that.' And so that's what we're gonna work towards, and in 2018 all of our officers will be trained in fair and impartial policing," Roach says.
Dominic Dorsey is president of Don't Sleep, an advocacy group focused on social injustice and equality.
Dorsey says the department implementing implicit bias training is good. But he says groups like his have been asking for similar efforts for a long time.
"I think the true issue, where we really need to see some reform, is when we identify individuals who have that bias, and we know that there are individuals who have racist tendencies, that we have to have an effective method of removing those individuals from positions of power," Dorsey says.
Roach says an administrative investigation, within IMPD, is ongoing. And he says under his direction, there will be a short amount of time between the criminal decision and the police department's own administrative judgment.
"That has not occurred in the past. But that will occur from now on," Roach says. "And this, as tragic as it is, is a great start to that and a great test, and as long as I'm Chief that's how it will happen."
Roach says he sent investigative materials to an internal firearms review board Tuesday. After meeting and reviewing the materials this week, that board will determine whether any policy and procedures were out of compliance.
The FBI is working with the Justice Department on another investigation, to determine if Bailey's federal civil rights were violated.