Editor's Note: The pandemic set off social fault lines that influence violence, and Indianapolis sets a new homicide record almost daily. This story is part of a series that examines those fault lines, with a look at historical struggle, including a systemic lack of services and resources for low-income and Black Indianapolis residents.
Many nonprofit organizations in Indianapolis work to address root causes of violence. Those include unstable housing, addiction and a lack of available jobs that pay enough to support a household.
There are more than 30,000 nonprofits in Indiana, but only about 10 percent provide social support of that kind, and for those groups, the need has grown sharply during the pandemic.

Derris Ross founded one of those nonprofits -- the Ross Foundation, in 2014. It works to improve youth outcomes in disadvantaged areas where a disproportionate number of residents are people of color. He believes the answers are rooted in the community, and grassroots groups are best positioned to find them. Ross is a Far Eastside Indianapolis native.
"If you don't get those dollars allocated to those populations that need the most, then wonder why you see an increase in mental illnesses … you wonder why you see we're on record to break the homicide record," Ross said. "You see why domestic violence has went up even more."
That was four months ago.
By mid October, Indianapolis recorded 160 criminal homicides -- more than the city had ever seen in an entire year. In early December the tally hit 197. Domestic violence related deaths are up 80 percent.
Many community members and civic leaders agree with Ross. They call for policing reform and for the city to shift more of its money to neighborhood-based solutions.
It's clear that certain Indianapolis neighborhoods need more than others. But people don't always know how to connect with services, and many don't trust established routes.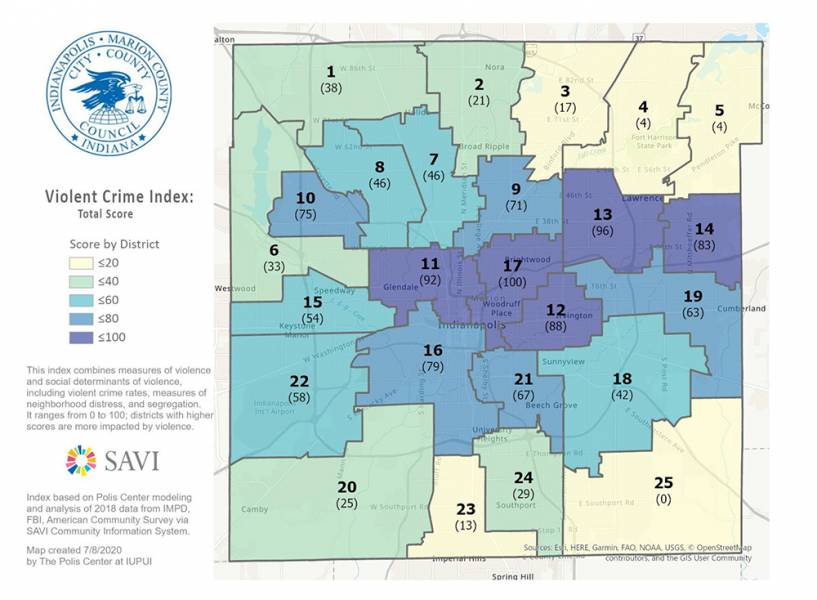 Many say grassroots groups, like the Ross Foundation, can reach those people faster and more successfully. Ross said groups like his know who is most impacted and where they live.
"Everybody's talking about the root causes," Ross said. "Well, you think about root causes and you pair down what that really means… that means you got to get to the very bottom. Grass roots represent the people who's at the bottom, who's under the ground, who's not seen, who's forgotten."
READ MORE: How One Indianapolis Neighborhood Is Looking For And Finding Solutions To Inequity, Poverty And Violence
Lilly Family School of Philanthropy Associate Dean Una Osili studies and teaches philanthropic trends. She agrees grassroots groups are often in a good position to help.
"They've been doing this work. They know the issues. They know the communities that they work in. What they may be lacking often is funding and scale," Osili said.
For example, the Ross Foundation has about 65 staff and volunteers. That level of resources allows them to go door to door to reach people. The organization recently added housing to its services -- working to protect tenants rights and identify people in need of rental assistance. But sustainability and the ability to raise more money? That is more difficult.
It Takes Money to Make Money
Like many Indianapolis grassroots nonprofits, the Ross Foundation finds itself in a double catch 22:
It takes more money to win money, because more people on staff can raise more money.
And you need money to do more -- which makes you more impressive, so you get more money.
Larger groups have dedicated grant writers, staff and managers dedicated to the cause. Ross said funders often feel more comfortable with these established groups, but often established groups fail to connect with the people most in need in vulnerable communities. They may more easily connect with those more able and willing to seek traditional sources of aid.
"We cannot just invest in traditional organizations who serve the same population over and over," Ross said.
It takes time to network and establish relationships, and it takes time to gain knowledge of funding opportunities and how to implement them.
Ross said his foundation aims to raise more than a quarter million dollars a year to operate -- they piece together money from grants, donations and fundraising -- but he says it is a lot of work, and organizations like his would thrive more if they could win larger grants, from philanthropic groups and from the city.
"If you want to heal the wound, you must, you must invest in grassroots organizations entirely and not just give them crumbs," Ross said.
Many groups interviewed for this article said the same thing: If funders took a chance and invested a quarter of a million dollars, for example, they'd be able to make a bigger difference.
Connecting at the Grassroots Level
Grassroots groups often focus where they see the greatest need. When it comes to violence reduction in Indianapolis, many reach out to young Black men who are justice-involved.
Last year Black males made up more than 60 percent of criminal homicides.
Voices is a small nonprofit that works with youth in education, providing cognitive behavior and art therapy. Sometimes they are court-appointed. The city awarded $75,000 as part of its community-based crime prevention efforts this year.
Executive Director Kia Wright said the pandemic exacerbated the root causes of many problems.
"We've got a lot of families in housing crisis, food deserts. You know those things haven't changed -- the gaps in education -- COVID has just made them bigger," Wright said.
This is the second year the group has been backed by city dollars. Wright said that helped the organization navigate the pandemic, because the relationship with the city was already established. They had proven their model could work.
"We didn't have to do all that building of trust all over again," Wright said.
Many grassroots organizations connect with people through neighborhood resource fairs. In the Martindale Brightwood neighborhood this summer, the Marion County Juvenile Courts and the City's Office of Public Health and Safety held a fair to link residents to food and other services.
Lashauna Triplett was at the event. She is the co-president of Mackida Loveal Trip Mentoring Outreach. Her nonprofit reaches hundreds of Indianapolis justice-involved youth annually through trauma informed programs.

"We help them navigate through those emotions, learning that anger and frustration is a natural emotion, but let's filter it the appropriate way," Triplet said.
The group focuses on alternative education for teens that have been suspended or expelled. They usually work in small groups, in person, to build skills, resilience and education. Triplet said the pandemic changed that.
"Due to COVID, and we weren't able to do face to face, so that relationship building is very important," Triplet said. "And them having a safe, stable place to come to is very important. We used to take that for granted. Now we know how important it is."
The mentoring organization aims to break the cycle of violence and disrupt the school to prison pipeline. It receives state funding from the Department of Child Services. It has also received a grant from the Central Indiana Community Foundation that commits more than $2 million yearly for crime prevention and intervention in Indianapolis.
Triplett's husband Fletcher Triplett runs the nonprofit with her. From his perspective, he said there is a lot of conflict in the grassroots game. Some groups find themselves pitted against each other for grants, donations and other funding. When one group succeeds, others can feel resentment.
"People are not coming together and people instead compete with each other and try to tear each other down instead of building it up," Fletcher said.
Una Osili with the LiIly School of Philanthropy said the pandemic has only worsened many issues.
"These gaps were there before COVID-19. But they have become even more pronounced in the face of the pandemic," Osili said.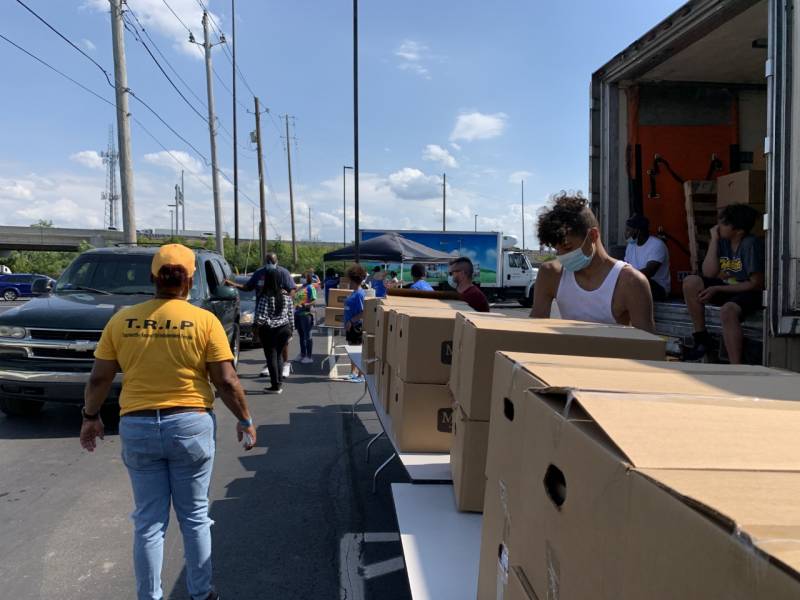 'Billions and Billions of Dollars' Worth of Challenges
Historically, some small, local organizations have gained enough economic momentum to grow and attract more money.
Lilly Family School of Philanthropy Associate Dean Una Osili says established groups working towards equity started as small grassroots groups.
"A lot of the groups that were doing the work, whether it was voter registration, or employment or education training, or smaller grassroots organizations, the ones we know about today like the NAACP, many of them were not very well resourced," Osili said. "They were smaller organizations, all working on civil rights issues."
READ MORE: Pandemic Fuels Increasing Food Insecurity In Indianapolis
The Urban League has grassroots origins, but it is not a grassroots group today. The nonprofit was founded in 1965. It has ties to the national Urban League, and it aims to provide disadvantaged individuals with social and economic equality.
This summer, the Indianapolis Urban League received a $100 million grant from the Lilly Endowment to create the African American Quality of Life Renewal Initiative.
While the money is not set aside specifically for violence reduction efforts, the funds will address many of the root causes of violence.
President of the Indianapolis Urban League Tony Mason said $100 million may seem like a lot of money, but it's only a small piece of what is needed.
"Ultimately, we're talking about billions and billions of dollars worth of issues and challenges that plagued the African American community," Mason said. "And -- the reality of it is -- the very issues that impact African Americans are also the issues that impact poor people all across the city."
To start, the funds will be used for organizational and staffing purposes. Down the line there will be grant opportunities for Indianapolis groups aligned with the initiative on issues like employment, education and health.
Mason says groups like his have to be part of the solutions, but it will take real commitment from all sectors to start a significant turn around.
"This is going to require engagement and input from the 25th floor of City Hall to grassroots organizations that are doing work door to door," Mason said.
Mason said helping people who may be struggling even more because of the pandemic is a priority. The goal is to build back better, he said, moving people towards self sufficiency and prosperity where they "have access to affordable quality housing, that their children can attend schools that are performing well and that are shrinking the achievement gap, that people have jobs with livable wages."