WFYI's education reporting is informed in part by community engagement. Community Engagement Specialist Tasha Gibson leads that ongoing work for the education desk, ensuring our reporting informs and meets the needs of our audience as it grows and changes.
WFYI is committed to listening and engaging with the community, taking feedback and turning it into reporting and resources that meet local needs. As the education team was forming in 2021, Tasha, Side Effects Public Media Community Engagement Specialist Brittani Howell, and members of the community engagement team convened listening sessions with parents and caregivers of children with disabilities, along with organizations that support students with disabilities. Feedback from those listening sessions was shared with the education team as they began their extensive reporting about special education in Indiana's schools.
This summer, Tasha and other members of the community engagement team focused their efforts on meeting members of the community where they are – at events across Indianapolis, where they started conversations with one question: "Do you think your child is (or children are) getting what they need in school?" Tasha chose to ask this question based on conversations with WFYI's education reporters and editors.
At each event, community members were invited to drop a token in a jar labeled "Yes" or "No," and from there, Tasha and community engagement staff who joined her at these events could continue the conversation, asking what community members thought their schools were doing well, and what could be improved.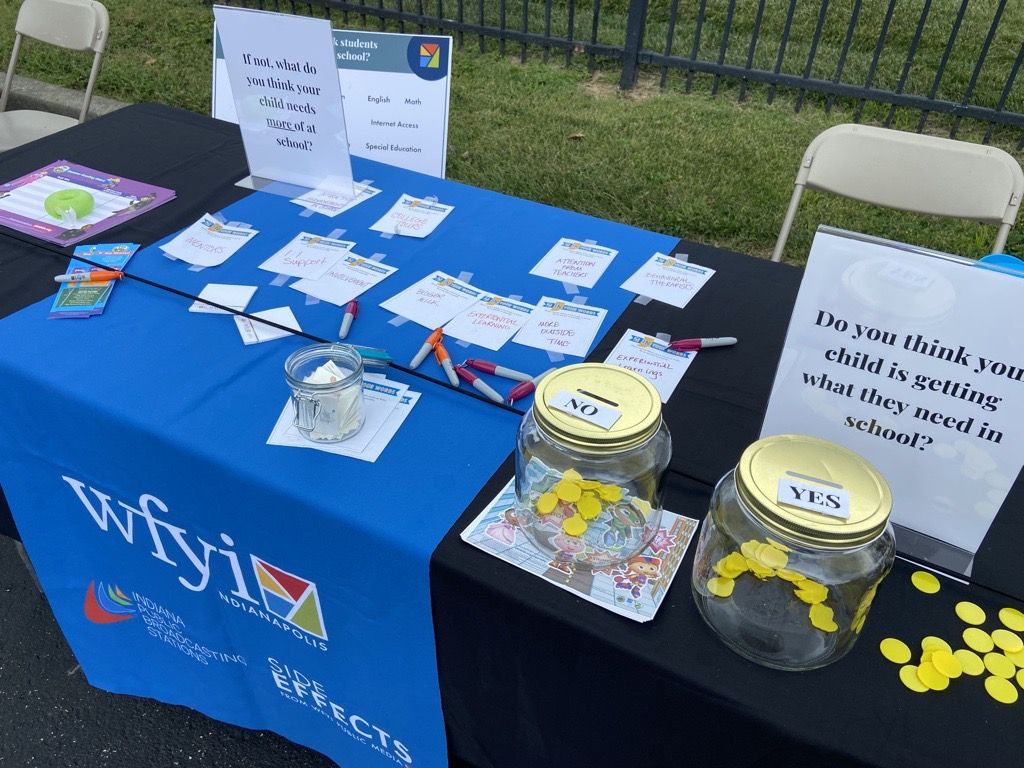 We also utilized our "In Your Words" board, inviting community members who responded that their student was not getting what they need in school to write answers to the question "What do you think your child needs more of at school?" that we could display, prompting others to share.
Here's what we learned:
Students need more than academic support in school
Community members we spoke with had a lot of ideas about what topics teachers should focus on in classrooms – including geography, athletics, and job and life skills. But students need non-academic support, too.
A lot of that support could be directed toward student mental health. More than 50 people we spoke with said that students specifically need more mental health resources at school, including preventative measures like mental health screenings and check-ins; more trained and licensed mental health providers in schools; and better access to trauma-informed counseling and behavioral management. Student support could also come in the form of mentorship.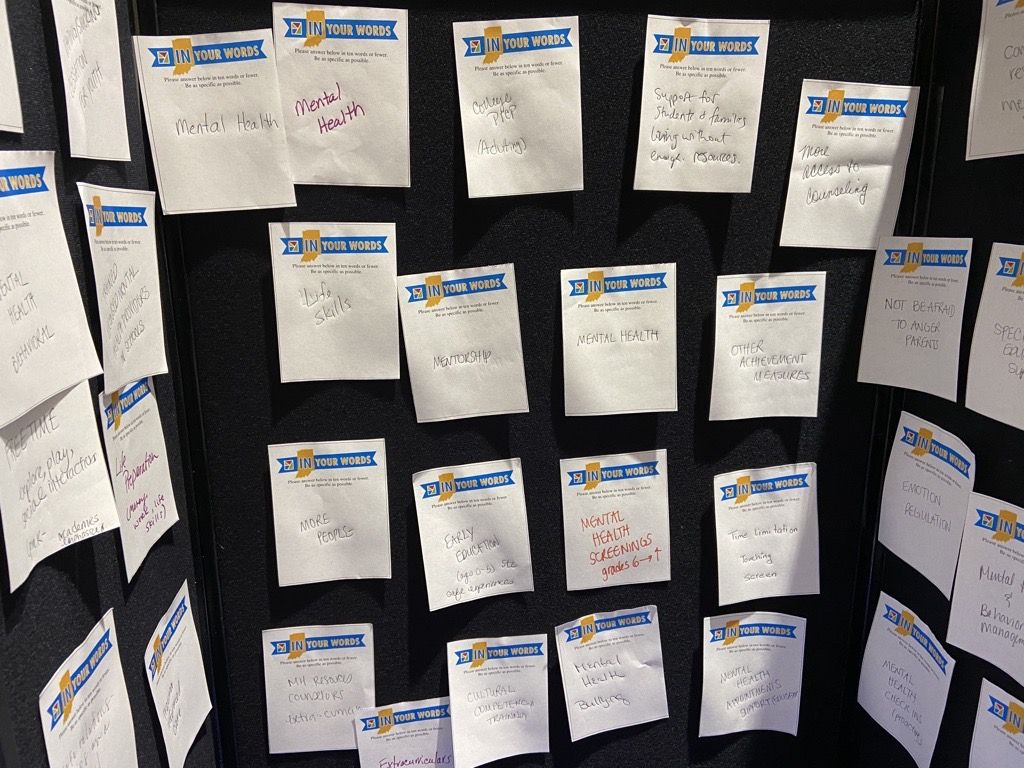 Schools need teaching that meets the needs of all students
Education leaders have voiced concerns about pandemic-related learning loss, as well as declining literacy rates and state test scores that show stark racial achievement gaps.

In a conversation about learning loss, one grandparent told Tasha, "If I could lose something, maybe I never had it in the first place."
Community members we spoke with expressed a need for "more" from their schools – more after-school activities, more class options, more support for students with special needs.
And community members wondered if schools could do more than "teach to the test." Can kids have more interactive time to do hands-on learning? Can they learn financial literacy? Can teachers focus on critical thinking skills and culturally-relevant lessons? And can we measure student achievement outside academics?
Community members also hoped for more trained and better paid teachers preparing students to move on to the next grade.
Schools and students need more resources to be successful
Teaching and learning are difficult when your basic needs – like food, insurance and transportation – aren't met. But at least a dozen community members said they needed access to the internet, supplies and other resources.
Community members also want students to feel safe in the classroom, with trained security and communication about plans related to active threats like a school shooting.
What comes next?
We heard a lot (for the record, one student wanted bigger milk at lunch.) So what comes next for Tasha and our reporting team? This work is ongoing, and it takes time. Our goal is to consistently show up and listen deeply. We want to ensure that the information we provide responds to what we learn from people we listen to, who have expertise in their own lived experience and communities. We hope to take what we learned this summer to inform and deepen our reporting and community engagement events and efforts.

What would you add to the conversation? To get in touch, you can:
Contact digital editor Lauren Bavis at lbavis@wfyi.org. Follow on Twitter: @lauren_bavis.