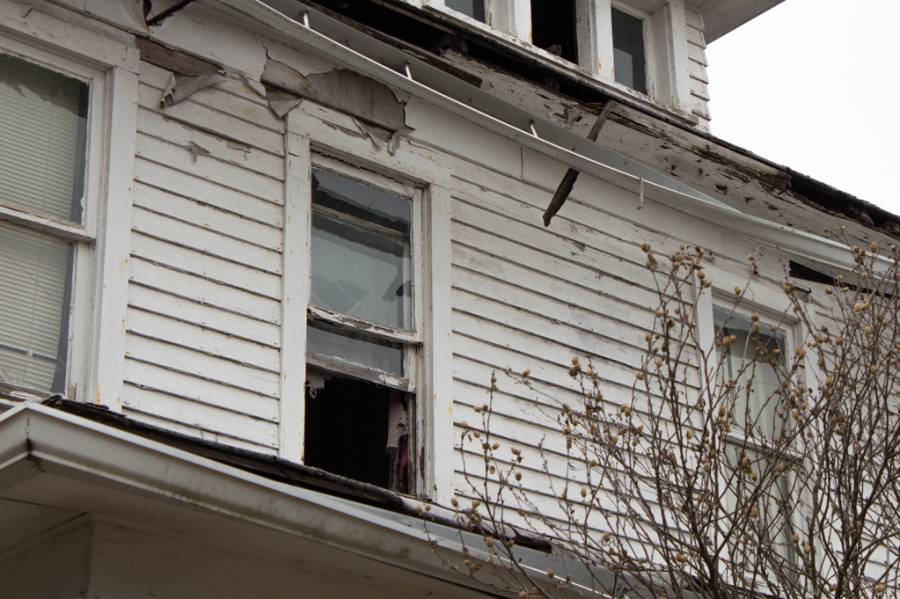 St. Clair Place is made up of 882 properties. Before NEAR's project began, over 43 percent were vacant or abandoned. Many of those properties today are owned by companies, some based out of state, waiting to act when the market improves. (Photo by Drew Daudelin)

Andy Austin entered his future home for the first time six years ago, walking behind his realtor.
"He pulled out his screwdriver and took the plywood off the door, and we came in. And it was pretty grim," Austin says.
The early-20th century home in St. Clair Place, a neighborhood in Indianapolis' near-east side, was in shambles – abandoned for years after it was cut up and used as a makeshift apartment building.
"It was still really chopped up and dark, because all the windows were boarded up. But I liked the space," Austin says.
Not long after, Austin bought it, for several reasons.
First, it was priced at a significant discount. The group running the St. Clair Place housing project reserved these properties for people making 80 percent of the area's median income.
Second, the same group would oversee its renovation. It was outfitted with a new, specious layout, modern appliances and utilities.
"It's kind of like getting a brand new house in an old house shell," Austin says.
But the third reason, maybe the most important for Austin, is that he trusted the people running the project.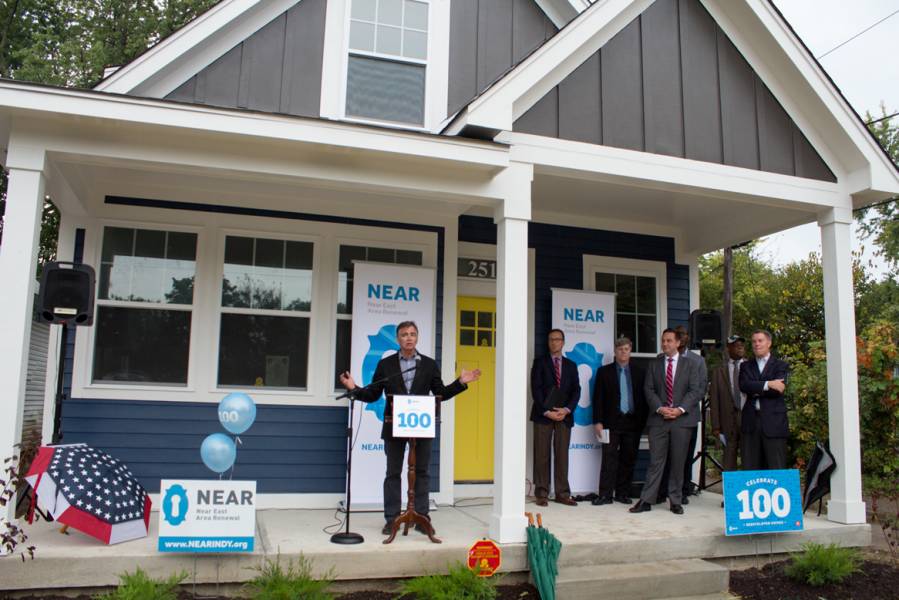 NEAR Director John Franklin Hay says he's learned the importance of listening to long-time residents. "Community building is not building community unto you, it's building community with you," Hay says. (Photo by Drew Daudelin)

Near East Area Renewal, or NEAR, started the St. Clair Place project seven years ago, when more than 43 percent of the neighborhood's 882 properties were vacant or abandoned.
Since then, with the help of the city and outside contractors, the nonprofit has worked to acquire those lots and turn them into affordable housing – some rentals, some to own. It recently finished its 100th renovation.
John Franklin Hay, director of NEAR, is a St. Clair Place resident and has worked in the community for years.
"I love this place," Hay says. "It's feisty, it's half-crazy, it's wonderful, it's inviting, it's alive."
Today the neighborhood is a blend of new neighbors like Austin and long-time residents. But in the project's early days, Hay says some residents were skeptical.
"My first meeting with the St. Clair Place neighborhood association…I mean if I could have gotten tarred feathered and run out of town it would have been possible, and I hadn't even done anything," Hay says. "They raised their voices at one point to say, 'What are you doing to us?' We said 'No no no, what happens in this neighborhood, we want to be with the existing neighbors.'"
Hay says one plan, to tear down an especially old home to make room for a pocket park, was panned by residents. The community told NEAR the home held meaning for them. And Hay says he learned to listen.
"Within three months," Hay says. "I felt like I could walk on water."
And as NEAR only works on abandoned or vacant lots, Hay says the project has displaced no one. This is intentional. It is designed to avoid gentrification – when massive amounts of money are invested in an area, properties usually rise, pricing many long-time residents out.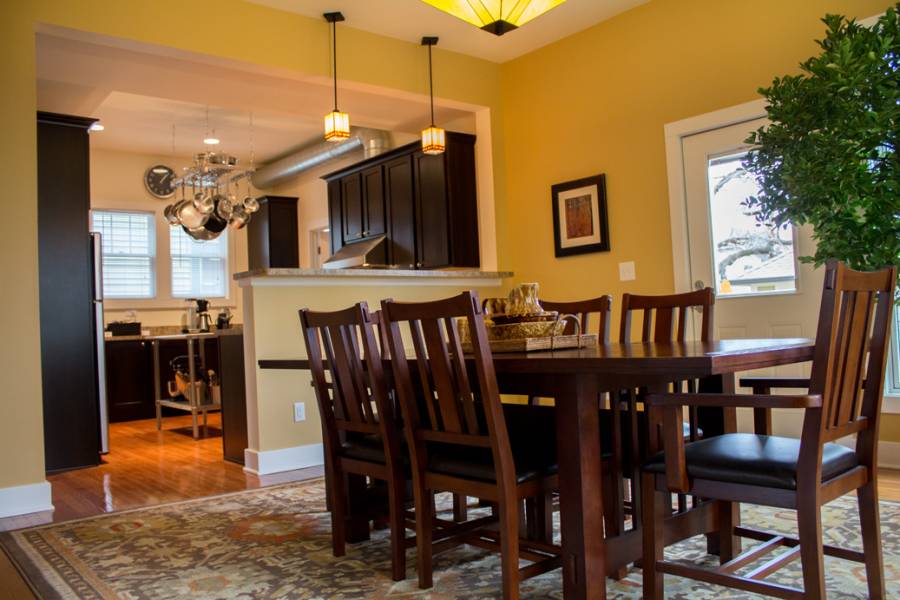 When Andy Austin bought his house on the near-east side, it was abandoned and falling apart. Its restoration is part of a project to turn the city's vacant properties into affordable housing. (Photo by Drew Daudelin)

When you buy a home from NEAR, you sign a contract. For the first five years you live there, if you sell and make a profit, you have to give that profit back to the project. This is meant to deter investors looking to make quick money.
After those five years are up, though, low-to-moderate income residents suddenly have the opportunity to build wealth.
Jeff Bennett is Deputy Mayor of Community Development for Indianapolis.
"We've gone 50 years in some neighborhoods where long-time residents have really been prevented from building wealth, and home ownership is one of the only ways that you and I, and others, will ever be able to build any sort of wealth," Bennett says.
The city worked closely with NEAR to secure funding, mostly from the U.S. Department of Housing and Urban Development.
Bennett applauds the project's success, but says a long-term challenge remains – what if the market takes over, and too many people sell when their contracts end?
"We can't simply develop neighborhoods that become these market rate enclaves that price people out," Bennett says.
One possible solution -- NEAR plans to stay one step ahead, to build new affordable homes at the same rate the others are selling. But there's no guarantee the federal funds they depend on will be there in the future.
Another potential solution, and the ultimate goal of NEAR's community-based philosophy, is to make the neighborhood so nice that residents just don't want to leave.
For resident Andy Austin, whose contract has already ended, it's working.
"I enjoy Sunday mornings sitting on my front porch, and all the early risers are out jogging, and then people walking the dogs, and people walking the kids," Austin says. "We still have issues, but it feels like a neighborhood now."