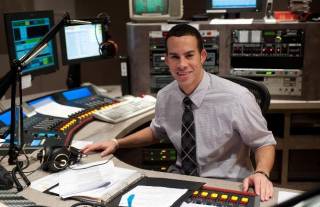 Sam Klemet was born in New York City and raised outside of Detroit.
He graduated from Michigan State University in 2007 with an Honor's Degree in Broadcast Journalism and then accepted a reporting job in southern Illinois. After five months at WJBD, he took over as the News and Sports Director at two stations - WCMP/WXCX - in central Minnesota.
After two-and-a-half years in the frigid cold, Klemet accepted a reporter/producer position at WBAA in West Lafayette in June, 2010.
He joined the WFYI staff as a reporter in January, 2013.
Klemet has filed stories for NPR on Olympic diving and the Indy 500. He's also been recognized by the Society of Professional Journalists for his coverage of sports and the environment, winning first place awards in both categories.
Klemet has volunteered with the Big Brothers Big Sisters Program since 2010 and is a 2014 candidate for the "National Big Brother of the Year" award.
An avid sports fan - especially of the Pistons, Lions, Tigers, Spartans, and Red Wing - Klemet lives in Indianapolis with his girlfriend and bulldog, Mo.